Since 1980, COSMED has been a global leading company in the cardiopulmonary and metabolic diagnostics market. COSMED Indirect Calorimetry and Cardio Pulmonary Exercise Testing systems have been renowned worldwide for their breakthrough quality, accuracy, user-friendliness and reliability. COSMED history has been characterized throughout the years by innovative products and technological "firsts".
Quark CPET – Metabolic Cart

Stationary Metabolic cart for Accurate Pulmonary Gas Exchange & 12-lead Stress Testing ECG.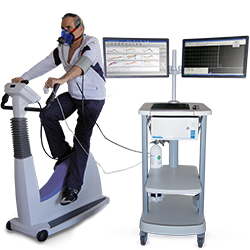 •    Breath by Breath Gas Exchange data analysis (VO2, VCO2)
•    Fully integrated 12-lead ECG for Stress Testing (option)
•    Nutritional Assessment either with face mask or optional Canopy Hood
•    Optional full Spirometry, Exercise SpO2 monitor
•    Mixing Chamber suitable for low and high ventilation ranges
https://www.cosmed.com/en/products/cardio-pulmonary-exercise-test/quark-cpet
K5 – Wearable Metabolic System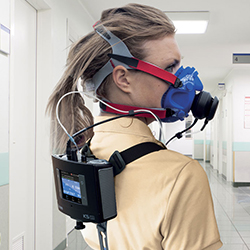 The one choice metabolic system for both laboratory and field testing.
•   Gold standard accuracy and reliability of Vmax assessment during field
or laboratory testing
•    IntelliMET, the first Metabolic system integrating Dual Gas Sampling Technology.
•    Single body, rugged design (IP54) provides protection against water, moisture and dust
•   3.5" transflective , touchscreen colour LCD with intuitive device interface
•   Bluetooth LR Wireless data transmission (> 1000 m).
•   Bluetooth 4.0, ANT+ compatibility (up to 8 simultaneous channels).
•   Integrated 10 Hz GPS and 3D motion sensors (accelerometer, gyroscope and magnetometer)
https://www.cosmed.com/en/products/cardio-pulmonary-exercise-test/k5
Fitmate – Desktop Clinical CPET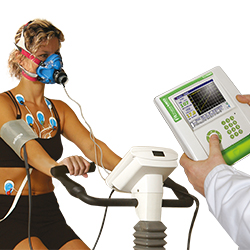 A new approach to simplified metabolic assessment during exercise and at rest
•   VO2max, sub-max VO2 and Anaerobic Threshold (AT).
•   Nutritional assessment (REE, RMR).
•    Fitness assessment and risk analysis
•    Body composition & comprehensive weight management
•    Colour LCD display and embedded high speed thermal printer
•    Software for data management, exercise prescription and HR-VO2 training zones
https://www.cosmed.com/en/products/cardio-pulmonary-exercise-test/fitmate-med