COSMED, an Italian company established in 1980, designs, manufactures, and sells worldwide diagnostic medical devices to assess Cardiopulmonary and Metabolic functions and Body Composition, addressing the needs of Health Care and Research public and private organizations and professionals operating in the Hospital, Primary Care, Sport Science and Human Performance, and Health and Wellness markets.
Direct operations, through its fully owned subsidiaries, are held in Australia, Denmark, France, Germany, Hong Kong, Netherland, Switzerland, and USA, and with over 80 Business Partners, are covered more than 100 countries.
Accuracy, reliability and duration of diagnostic medical devices and the innovative software platform OMNIA, worldwide superior customer care, first class technical support, effective training services, along with regular software updates and guaranteed availability of original spare parts and supply of consumables, guarantee COSMED customers to preserve and exploit their investments over time.

Quark CPET – Metabolic Cart
State-of-the-art metabolic cart for clinical Cardiopulmonary Exercise Testing.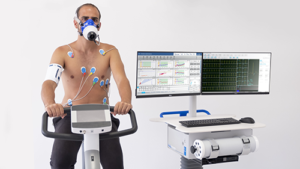 Breath by breath gas exchange analysis (VO₂, VCO₂)
Powerful software for data analysis (thresholds, slopes, 9-Panel Plots, Auto-interpretation etc.)
Spirometry and Exercise Flow Volume Loops
Optional Walk Test Module (6MWT, Shuttle, etc.)
Integrated wireless or cable 12-lead Stress Testing ECG
Interface to HIS via HL7®, DICOM® or GDT protocols
COSMED – Quark CPET: "Cardio Pulmonary Exercise Test"
K5 – Wearable Metabolic System
The one choice metabolic system for both laboratory and field testing.
Gold standard accuracy and reliability of VO2max assessment during field or laboratory testing
IntelliMET, the first Metabolic system integrating Dual Gas Sampling Technology
Single body, rugged design (IP54) provides protection against water, moisture and dust
5" transflective, touchscreen colour LCD with intuitive device interface
Bluetooth LR Wireless data transmission (> 1000 m).
Bluetooth 4.0, ANT+ compatibility (up to 8 simultaneous channels).
Integrated 10 Hz GPS and 3D motion sensors (accelerometer, gyroscope and magnetometer)
COSMED – K5: Wearable Metabolic System for both laboratory and field testing
Q-NRG Max – Metabolic Monitor
The New Generation of Metabolic Monitor for VO2 Max and Resting Energy Expenditure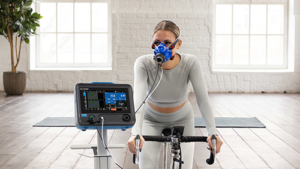 Full Metabolic Testing (VO₂ Max, REE)
Gold Standard Technology (VO₂, VCO₂, RQ…)
Compact Design, Battery Powered
10″ LCD Touch Screen with Intuitive User Interface
RS-232, BLE and ANT+ to connect with a wide range of external devices (Ergometers, Power meters, …)
No Warm-up time and seamless calibration procedures